Messenger marketing is the new marketing trend over the past few years, it's one of the best ways to attract new leads for your business, and a lot of marketers haven't discovered this yet. If you're looking for an effective way to communicate with your targeted audience, messenger marketing should be your No.1 marketing channel.
Messenger marketing is quite more effective than email, marketers using Facebook messenger see a 30% to 40% click rates, this is 4 to 10 times better than email marketing.
Your audiences are on social media and you need to find an efficient way to communicate with them, that's why you need messenger marketing app or software.
In this article, we'll compare two messenger apps that will simplify communicating with your prospects fast and easy. These powerful apps are Inboxite and ManyChat. Stay with us till the end as we explore all the features of these two apps and how they can help your business grow.
Inboxite Review and Features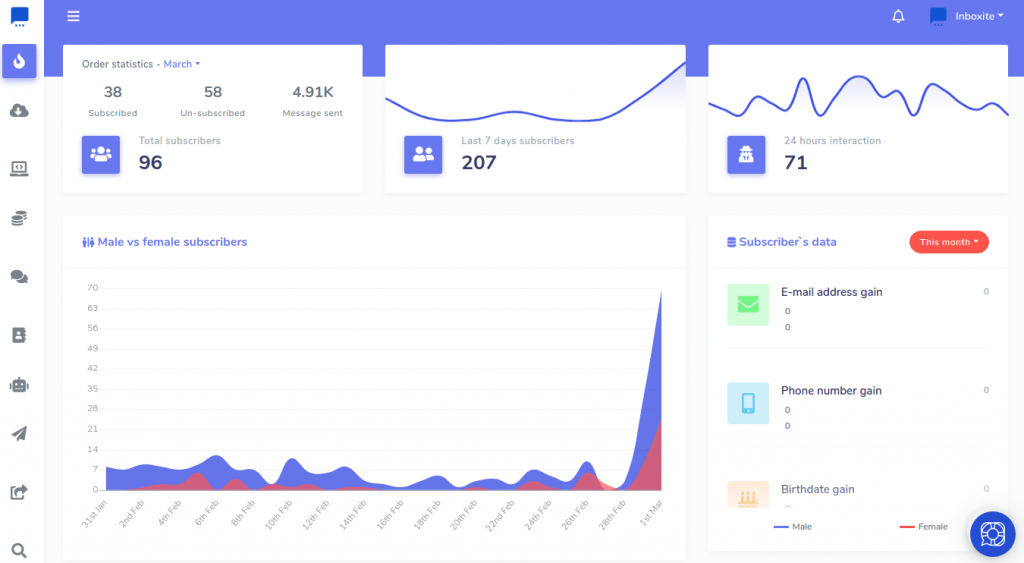 Inboxite is a powerful messenger app for small and medium businesses, whether you want to collect leads or engage with your customers, Inboxite has all the solutions for you. It's all in one marketing suite, with this app you can collect leads, send broadcasts in bulk, comment automation, SMS and email marketing, eCommerce and more…
Let's take a look at some of the features you can enjoy with Inboxite message marketing suite.
Features of Inboxite
Effective and convenient
Inboxite has user-friendly interface, it's simple and self-explanatory to use this app. And it doesn't end with Facebook and Messenger marketing alone, SMS and email marketing just got easier with this powerful marketing tool.
Send bulk broadcast for free
You're not limited to the number of promotional messages you can send when using the conversational broadcast message type and you don't need any permissions, and it's completely legal. You'll hardly find any messenger app that offer such privileges for free. Here are some of the benefits you'll get with the bulk promotion feature;
Sync your existing subscribers and broadcast to your new and old subscribers. All users who have ever contacted your page are automatically turned into subscribers.
Segment or Group your subscribers by tag, locale, gender and time zones.
Get a detailed report of sent and failed messages.
Commenters can be automatically added to your list.
Spintax, Emoji and personalized content are supported.
Automate your Facebook comments
With Inboxite, all your Facebook commenters can be converted into leads, Inboxite have the most effective comment automation technology, unlike in the past, you can much more with your comments.
The comment feature gives you these options;
You have the option to send automatic replies to all comments using the preset filters.
You can choose to send private messages to your commenters straight to their Inbox.
Filter your comments and delete or hide abusive and unwanted comments.
Add Auto comments for new posts on your page.
Personalized marketing for your business with Messenger Bot
With Inboxite marketing automation, you can always win back your customers, you can automate Frequent questions and answers to retain more customers for your business. Here are the benefits you get;
You can set the messenger bot on multiple Facebook pages and the bot can auto-reply with text, image, post back button, carousel template and more.
Set up your messenger bot to engage with customers 24/7, you can automate customer support and skyrocket your sales with transfer to human option.
Reduce support costs with automatic FAQ feature, this will also increase customer satisfaction.
Improve sales using abandoned cart recovery.
Provide support on autopilot
Inboxite bot uses AI to provide automatic support to users. You can set your parameters from the app so that users get answers to their questions automatically using the messenger bot. There are lots of automation options to choose from that will enhance your business.
Email and SMS marketing
Collect emails and SMS from your leads, this will help you reach out to your prospects on different channels, this means more engagement and sales from your prospects. here are some of the features you'll get;
Manage unlimited email campaigns from popular email services, or you can use your own SMTP server.
Automatically send collected emails to your Mailchimp list.
Automatically send SMS to collected numbers
Send bulk SMS campaigns using popular and affordable SMS gateways.
Track your campaigns effectively, you can view open rate, click rate and unsubscribe rate.
Messenger Ecommerce
Facebook Messenger marketing is evolving and you've got to stay in line with the pace. With Inboxite, you can build a complete eCommerce store within Messenger and sell your products or services to customers worldwide.
Your favourite payment gateways are integrated on Inboxite; Stripe and PayPal, manual payments are also supported. As a vendor, you can accept payments in over 20 currencies. You won't have any problem when it comes to collecting payments from your customers.
Here are the eCommerce benefits you'll get;
Add unlimited products to your store.
PayPal and Stripe are integrated.
Win back customers that abandoned their cart using recovery sequence messages.
100% free, no commissions on sales, you keep 100% of the sale
Plan Schedule your posts
Inboxite allows you to schedule your posts across different social media channels. Whatever content you want to post such as videos, images, text, or links, you can set your schedules easily and Inboxite will take care of everything and post to your social media profiles.
Schedule posts to Facebook, Linkedin, Twitter, Pinterest, Youtube, Reddit, WordPress and Blogger Platforms.
Schedule posts to multiple social media pages at once.
Post any type of content, including images, video and text or CTAs.
Schedule posts from RSS feed without any limit.
Repost your content from another date.
Choose templates
No need to start building your bot from scratch, templates are available to help you create your bot very fast. You have all the settings you need in order to increase your bot automation.
Pricing
Inboxite offers flexible price options for marketers, you need to choose the one that's suitable for your business.
Basic FREE plan
you can start with the basic plan which is free, but the features are limited, you can manage only one Facebook page, you have 2000 bulk send credit and your comment automation is limited. Even in the free plan you have access to tons of features, just check on the official website at Inboxite.com to get more details.
Although limited in some features, the free plan still let you build unlimited bots and so much customization.
Standard plan – $19
This plan also allows the user to manage one Facebook page, they have bulk send credit of 10,000 and are not restricted on the comment automation feature. This can't create messenger store and doesn't have access to SMS and email campaigns.
Premium plan – $29
With the premium plan, you manage two Facebook pages and you have bulk send credit of 30,000 and can broadcast up to 3000 SMS and Emails.
Professional Plan – $49
You can manage 3 Facebook pages and have bulk send credit of 100,000, SMS broadcast is 10,000.
These are the pricing options available, you choose the one that suits your marketing needs.
Is Inboxite a substitute to all marketing tools?
We would not say that, but if you use any of these marketing tools, you'll definitely take advantage of Inboxite;
Webinar software like Demio, Ever Webinar or Webinar Jam.
Marketing automation software; Hubspot, Marketo or InfusionSoft.
Landing page and funnel builders like click funnels or lead pages.
Ecommerce platforms like Shopify, Magento, big commerce or Woocommerce.
LMS; Thinkific, Teachable, and Kajabi.
ESPs; Convertkit, Klaviyo, Or ActiveCampaign.
If you're using any of these tools or services related to them, then you definitely need Inboxite bot because it will make your life easier than using some of these services, and also you can integrate some of these services in Inboxite messenger bot.
Campaigns, Broadcasts and sequence
If you're a marketer, you'll definitely love these features, you can set your campaigns and broadcast them with ease.
Broadcast; you can send a message to a targeted group of users and you can send a follow up to specified people. For instance, you can choose to send a message only to your existing customers.
Campaigns; you can send automatic messages in sequence to any user that signup to your campaigns. This feature is more like Autoresponder messages in email marketing.
Duplicate your conversations; you can copy conversations from one bot to another with a few clicks.
Create templates; this will help you repurpose your message in other campaigns so as to save time.
Verify users before broadcast; you can view the number of users you're sending the message to.
Specify time; you can schedule your messages based on each user's time zone.
Receive notifications when users receive messages; you can know the number of users that receive your message.
There are lots of features in Inboxite that will help you get the most out of your marketing campaigns, you can track everything so that you can plan your marketing campaigns effectively.
Live Chat and Subscribers
This is where Inboxite is ahead of the game, it's a feature you can't find in email marketing and other tools out there.
Inboxite gives you access to the following features;
Audience/Subscriber Dashboard; list users that have interacted with your bot, you can view a lot of information about them like how they opted, their tags, custom field and more.
Facebook profile details; every important information from their Facebook profile will show up, these include; first and last name, time zone, gender and their Facebook profile picture.
Live chat feature; interact with all your subscribers within the Inboxite app. Inside the live chat window, you can view their information on the sidebar, this means you can make notes or tag the user within the same window.
Switch to live human support; if you don't want the bot to interact when there is live human chat, you can temporarily turn the bot off.
Inboxite Marketing Tools
This is the important part for marketers, they have everything they need to grow their business.
Automatic reply to comments; whenever users comment on your Facebook posts, you can set to send them an automatic message, and you can specify the message for each Facebook post comment.
Create an attractive button; create buttons and checkbox, you can customize with ease.
Create message links; you can create a unique message link for all your messages.
Easily run SMS and Email campaigns with a few clicks.
Inboxite Analytics
As the saying goes, if you can't track it, you can't measure it. It's difficult to improve your campaigns if you don't have access to data analytics and ManyChat gives you everything about user report and data.
Analytics Dashboard; you can view how many subscribers and unsubscribes you have at any given time, and also the overall number of users you have in your campaign.
View reports; you can view reports on sent messages, your open and click rates, and conversion rates. Every action you set in your chatbot, you can view its analytics.
User retention and input; there is no analytics for this as well.
Forms and user input
This feature also comes with a lot of benefits; you want to ensure that users input the right data.
Validate user information; you want to make sure that you receive the valid information from users and hence Inboxite will verify the input information before submitting. The bot will check for valid email, phone, location, file, image or URL.
Save answers from users; you can save answers or replies received from users as a custom filed and can be used for reference later.
Custom fields and tags;
You can group your subscribers by using tags and custom field.
Automatic custom field setup; when the user performs some action like clicking a button, you can add a custom field 'registered' to 'yes' when the user clicks on the button for registration confirmation.
Assign or remove tag; you can remove the tag from the user when they click on a button and can add a tag to them when they click the button.
Reference users in your message; when users type their name, you can greet them by their first name, like 'Hi, James', if they haven't input their name you set to address them as 'Hi there'. Addressing people by their name will produce more conversions for your business. All this is done on autopilot without any human intervention, you just need to set the parameters from the dashboard.
You can change tags manually; from the admin dashboard, you can manually add or remove tags.
Logic calculation; you can show messages to users based on their actions. You can set like 'if this then that'. This is a powerful feature that will help in segmenting your subscribers on autopilot.
ManyChat Overview

ManyChat is one of the leading visual Facebook messenger bot-building platforms. It has been around since 2015 and they've expanded their user base really fast over the years, if you search online for messenger bot app, ManyChat will definitely make it to the list. ManyChat comes with a lot of benefits also and has unique features that set it apart from the rest, let's explore Their features.
Who Should Use ManyChat?
ManyChat can be used for both personal and business purposes. If you or your business perform any of these business activities, then you need ManyChat;
Marketing Automation
Run Facebook Ads
Running webinars
Email marketing
Product launches
Content marketing
Audience segmentation
Features Of ManyChat Messenger Bot
ManyChat Interface
ManyChat has a clean and user-friendly interface that can be used without any prior experience of using messenger bots. The modern interface offers all the tools you need to start building your messenger bot from scratch. You have the option to use the basic builder or Flow builder.
The interface has an easy learning curve because you don't need any tutorials to get started, it's self-explanatory and simple to follow throughout the process. If you still want to save yourself some time, you can as well watch some video tutorials on YouTube.
The built-in tester allows you to preview your message before it goes live to ensure your message look the way you want the audience to receive it.
Ecommerce solution
Not only marketing your product and services, but you can also as well take order with ManyChat, with multiple payment options available, users can pay for your good and services without any hassle.
Language processing and Artificial intelligence
ManyChat isn't left behind when it comes to AI and Language processing. They'll save you a lot of time in the following ways;
Users get an automatic reply when they search for a keyword.
Automatic reply to user questions, you need to however set multiple variations of your questions so that whenever the user asks a question, the automatic response is waiting for them.
You can set to provide random responses; using the A/B split testing feature, you can create different variations for an automatic reply.
ManyChat notifications
With ManyChat you can set to receive notifications for all activities of your bot.
You can set to receive daily, weekly, or monthly subscriber report.
Admins can also get notified whenever a button is clicked. Though everything is available from the analytic dashboard, if you don't have the time to check daily, you can get the report delivered to you.
ManyChat Integrations
You can automatically notify subscribers when you upload content on popular platforms like Twitter, YouTube, Facebook, and RSS feed of your website.
Zapier integration; this means you can integrate ManyChat with some email marketing tools, Google Sheets, CRM, and more. However, Manychat doesn't let you schedule posts to these platforms.
Clone your content
Copy different content to another page with ease, ManyChat help you clone content in different ways;
Clone your bot; this means copying all messages, keywords, sequences, all flows, main menu, the default reply, structure and more.
Copy the whole flow to another bot, this includes all the messages in the flow.
Select specific messages and add them to another chatbot with a single click.
You should take note that duplicating a flow doesn't replace the content of the bot you're copying the flow to. You shouldn't also rely on the clone feature for backup and restore.
ManyChat templates
With ManyChat templates, you can save yourself time and improve your bot fast. Here is how you can benefit from the templates;
Share the complete messenger bot.
Choose what you want to include or not in your template, that's to say it's customizable.
Automatic landing page generator for your ManyChat template.
Specify instructions on how to install the template.
Add video link tutorial.
Share different elements like tags, custom user fields, growth tools, and general elements.
Filter audience
you can filter results by different parameters, that's either by tag, locale, sequence or how they opted to your list. This is a good feature if you want to group your subscribers, you can group them so that you know exactly their location and their behaviour.
You can also remove tags from multiple users, you can subscribe or unsubscribe them from a sequence.
You can set or remove customer fields manually.
ManyChat Pricing and subscription plans
ManyChat has a lot of subscriptions suitable for small and large businesses, the plan you choose will determine the number of subscribers you'll engage with. Whichever plan you choose, you have access to all features, you're just limited to the number of subscribers you can keep for each plan.
There is also the free basic plan, that allows users to test the tool, you can still stick to the free plan if you have only a few subscribers to maintain, not more than a hundred. Also in the free plan, ManyChat branding logo will appear on all your promotions, messages and landing pages, if you don't have a problem with that you can go with the free plan they offer.
Here are the plans and pricing you can choose from and the number of subscribers allocated to each plan;
500 subscribers; $10 per Month.
1,000 subscribers; $15 per Month.
2,500 subscribers; $25 per Month.
5,000 subscribers; $45 per Month.
10,000 subscribers; $65 per Month.
15,000 subscribers; $95 per Month.
20,000 subscribers; $125 per Month.
25,000 subscribers; $145 per Month.
These are some great features of ManyChat bot, this bot is a great option for businesses that want to reach targeted audiences because the bot has all the features you need in order to reach the right audience that needs your product or services.
Inboxite Vs ManyChat – Which One Is The Best For Your Business?
Both Inboxite and ManyChat have powerful tools that will help automate your marketing campaigns on social media, take a look at the two options and see which one has the best features your business needs, also take into consideration how much you're willing to invest in each tool.
We can clearly see that Inboxite stands out in terms of features and pricing. However, Manychat is a known name in the industry and we'll give them credit for the great UI.